The group of local young people from the SSEds4youth project in Barcelona visited the Mescladís space on February 16. During the visit, they interviewed Martín Habiague, founder and director of the social project that celebrated 15 years of work for social justice and the right to migrate.
Many years ago Martín migrated from Argentina to Belgium with a totally naive view of what Europe was, where he located the essence of human rights. But when he arrived in Belgium he found another reality, and he lived it personally because he was in an irregular situation. He was shocked by the deaths of many people, boys who hid in airplanes and arrived frozen … and mainly the case of a young girl killed by the pillow restrain method by the police. That was a trigger for the fight for the rights of migrants there. In Belgium he worked in consultancy while volunteering at a local migrant project.
After a sabbatical in Barcelona, he decided to create a social project. Mescladís is a project that arose out of concern. He felt that human rights in the 21st century were at stake in the defense of the rights of minorities and the rights to migrate.
For Martin, "the quality of democratic life can be measured in the way we treat minorities."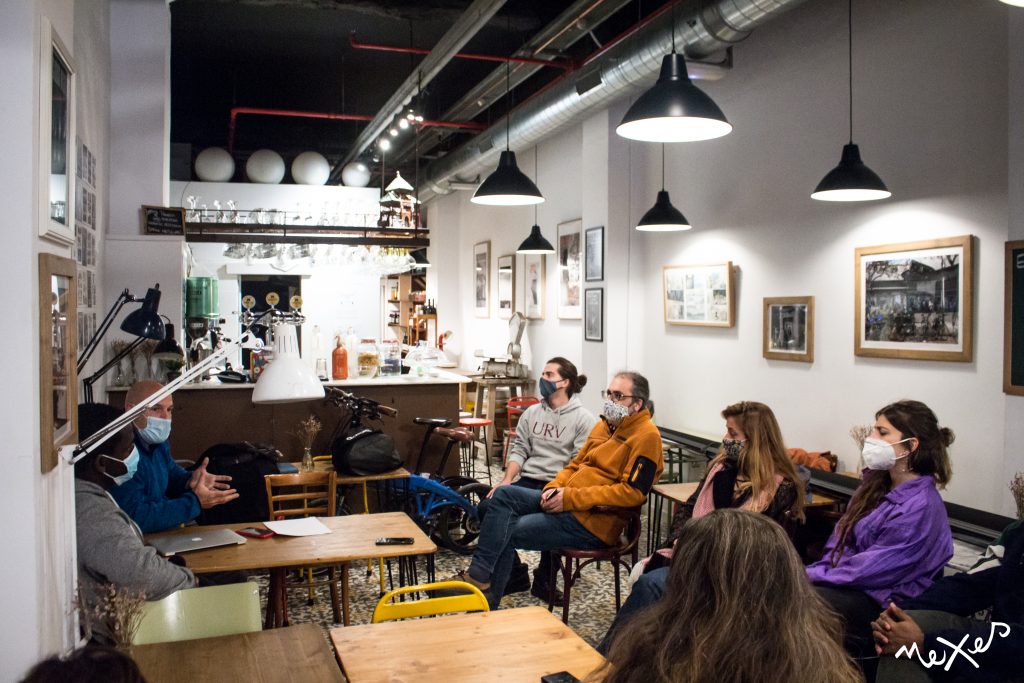 Where we are? What is this? What is Mescladís?
«A bar … restaurant» I always ask this question… We are not a restaurant, a bar, we are a social project. It is different in the end, the decision-making and the management process that you have is different. It is not the same logic that you apply. The logic of your day-to-day management is different. In their planning of the year, what they have and what we have.
What is the meaning of Mescladís?
We call ourselves mescladís and it is an Aranese word – which is one of the official languages in Catalonia – which means mixture, which can be mixed. We vindicate miscegenation as a positive value. From the vindication of miscegenation, then we arrive at the space for reflection and learning.
Area / The base – Program Cuinant Oportunitats
Whenever I explain Mescladís, I explain it in three areas. It's like a Mescladís triangle! The basis, from where the whole project makes sense, and the project has an impact, is a program that we call the Program Cuinant Oportunitats, which is the management of socio-labor inclusion itineraries. Training, but let's say the word inclusion is key there. It is key because we work with groups, who live next door, who live without rights. People who are in an irregular situation, which we can colloquially say illegal, which is a horrible term, or without papers, which is a euphemism that does not give an answer to what it really means. We all have papers here but none of these papers solve the problems.
We do an accompaniment to the market. They do internships in companies with which we have agreements, agreements, even within mescladís, we achieve job offers, regularizations on arrival.
Area – Community Development
In this there are issues that have to do with education and awareness, different activities that we do with the vocation of creating meeting spaces, working on fear. It is a learning process, in which we all have to work our prejudices, our fears, our racism. Put it on the table, talk about it, share it, reflect on it, learn to live in this diverse space. Even enrich each other.
We go to schools, we have different projects, we manage a Barri casal which is the Casal de Barri Pou de la Figuera, we are one of the entities that manage it. We have a line of work in the intercultural intergenerational field, we have another line for a program that we call Migrant Dialogues (Diálogos Migrantes), where we work with art as a tool to raise awareness and also to gain visibility into the projects we have done. We have already done 8 projects within the Migrant Dialogues program, because they vindicate life stories, to give it a name. From the moment you put a name and an image, a face to a story, it is the value of the personal story, of the personal story, because without that story it is very difficult to create empathy.
If I do not create empathy, I cannot reach solidarity. I cannot have empathy with an immigrant group. It is impossible to create empathy and solidarity with a collective thing. I can do it individually and from there I can have solidarity and from there I can reach the collective. Solidarity is a collective concept, empathy will be individual, but solidarity is collective. And if there is no solidarity and there is no empathy, we kill, what are we doing? We are all aware of Mediterrâneo … deaths that already go completely unnoticed, that no longer touch, no longer reach the media. We live in the midst of tragedy with total indifference. So we try to tell and tell and generate … a concrete impact, this is much more difficult. An impact, an attempt, to generate some new questions, to generate some concerns… It is very difficult, they are moving lands!
Sustainability is a holistic reality for the mix. We generate 85% of our budget with our own economic activity. We do not depend, we do not have a dependency relationship with grants. Which is good because what allows you to have your own muscle to be able to sustain equipment, to be able to drive, to be able to innovate. Innovation does not pay much for subsidies. To be able to carry out initiatives with a different logic. There are projects that have a strong dependence on grants, there are projects that are good, a lot of projects that it is very good that they are. But you get the grant in addition to the project. We can go on doing projects and giving them continuity, and then the grant may or may not come, we can work on that logic.
Then there is environmental sustainability that we are an actor that has an impact. In internal management, where we try and learn. We really try to be a benchmark in sustainability from restoration. We believe that the restoration has a very important say the question of sustainability, regardless of the pandemic and everything else. And then there is a question of emotional sustainability that is important to us as well. Work with our salary with our team.
That is Mescladís, those three areas. We make everything we do rotate on these three axes. We think of a project, we see how it rotates in those 3 axes. And they are the 3 axes that rule the strategic development of anything we want to do, they come to play on the axis of cuinant, on the axis of community development, and on the axis of sustainability.
What impact has the pandemic had?
We survive! And we will survive! In other words, we never reached the level of total anguish. We have had bad times in 15 years. It is up to us to resist, to survive… We have had the tools to survive. What are the tools? We have direct contact with the owner, in times of confinement we do not pay. Now we made an agreement, a 50% thing. The other local too. We kept certain structural costs. Help? None, the aid has been absurd… € 1500? I have not received direct aid.
As announced in March, on Friday at 10 pm, we began to send a message and we had decided to close because we saw that it was a complicated situation. At ten o'clock at night they told us that you closed, that is, we have all the production for the weekend, and that later was a constant. Put you in the place a little bit, and I am not saying that you do not have to take action, I am not a denier, but more or less certain criteria to be able to handle yourself.
I think there really is a lot of work to do and without any hope. I am optimistic every day and I wake up with optimism and what is that because why not because it comes out like that, not because I have to make any effort, but intellectually I have zero optimism about this because if we see from the "pillow restrain method", now the system is horrible much worse, that is, we tolerate things that are intolerable from any point of view. I always say that it is a Mescladís dream that generations are ashamed of this historical period, that it should be so if we have any kind of hope. I do not have it. But, if we had any kind of hopes, that is what should happen because it is really shameful what we are doing and we do it because there is social consensus.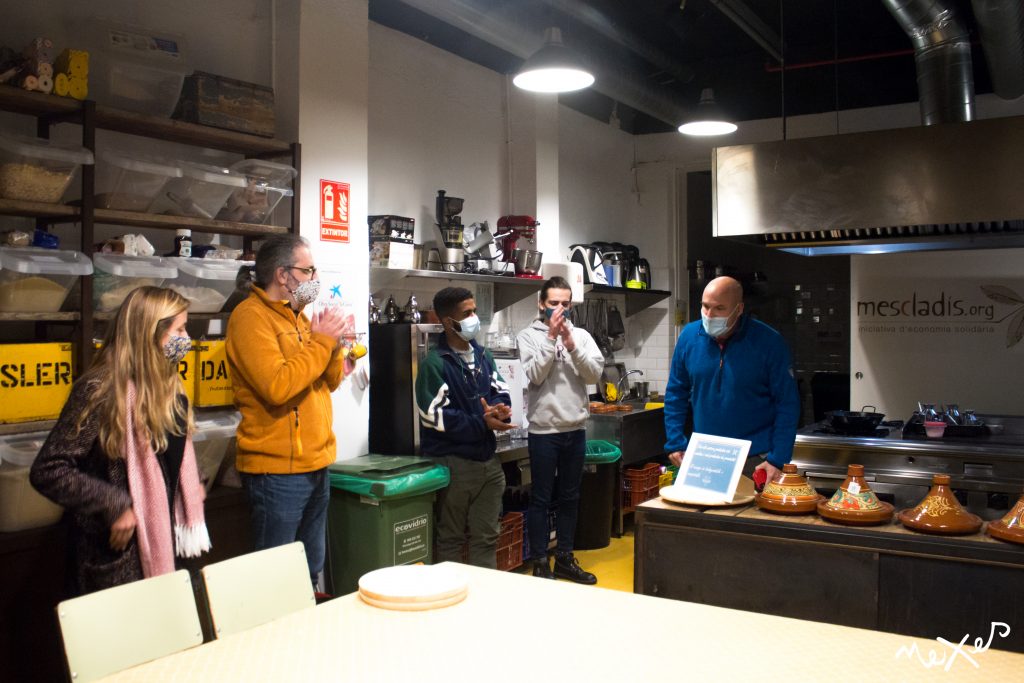 The visit to Mescladís is part of a set of initiatives that Nexes Interculturals is developing together with its group of local youth within the SSEds4youth.org project.
Many thanks to Martín and the entire Mescladís team for their availability for this interview and for their incredible community work.